Regular price
$436.00 USD
Regular price
$436.00 USD
Sale price
$436.00 USD
Unit price
per
Sale
As denim enthusiasts, we have embarked on a new creation: the Shirt Denim. It embodies the essence of Dungaree denim, offering a unique texture and feel.
Despite its lightweight and comfortable touch, this denim retains the dry and rugged characteristics that define its true nature. The coarse texture remains intact, while the perfect balance of warp and weft threads creates a sophisticated and urban grayish hue. We invite you to experience the nuanced shades of indigo, which grow richer with each wear, showcasing the beauty of aging.
The distinctive button closure is inspired by the fundamental technique of "8 knots" in rope work. This versatile shirt can be worn lightly as a layering piece or as an inner garment, making it suitable for year-round wear. When buttoned all the way up, it can even be styled like a jacket, adding to its versatility.
Discover the timeless appeal of the 908 Shirt Denim 8 Knots Shirt—an embodiment of craftsmanship, versatility, and the enduring allure of indigo.
SIZE GUIDE
MATERIAL
View full details
908 Shirt Denim 8 Knots Shirt
Regular price
$436.00 USD
Regular price
$436.00 USD
Sale price
$436.00 USD
Unit price
per
Sale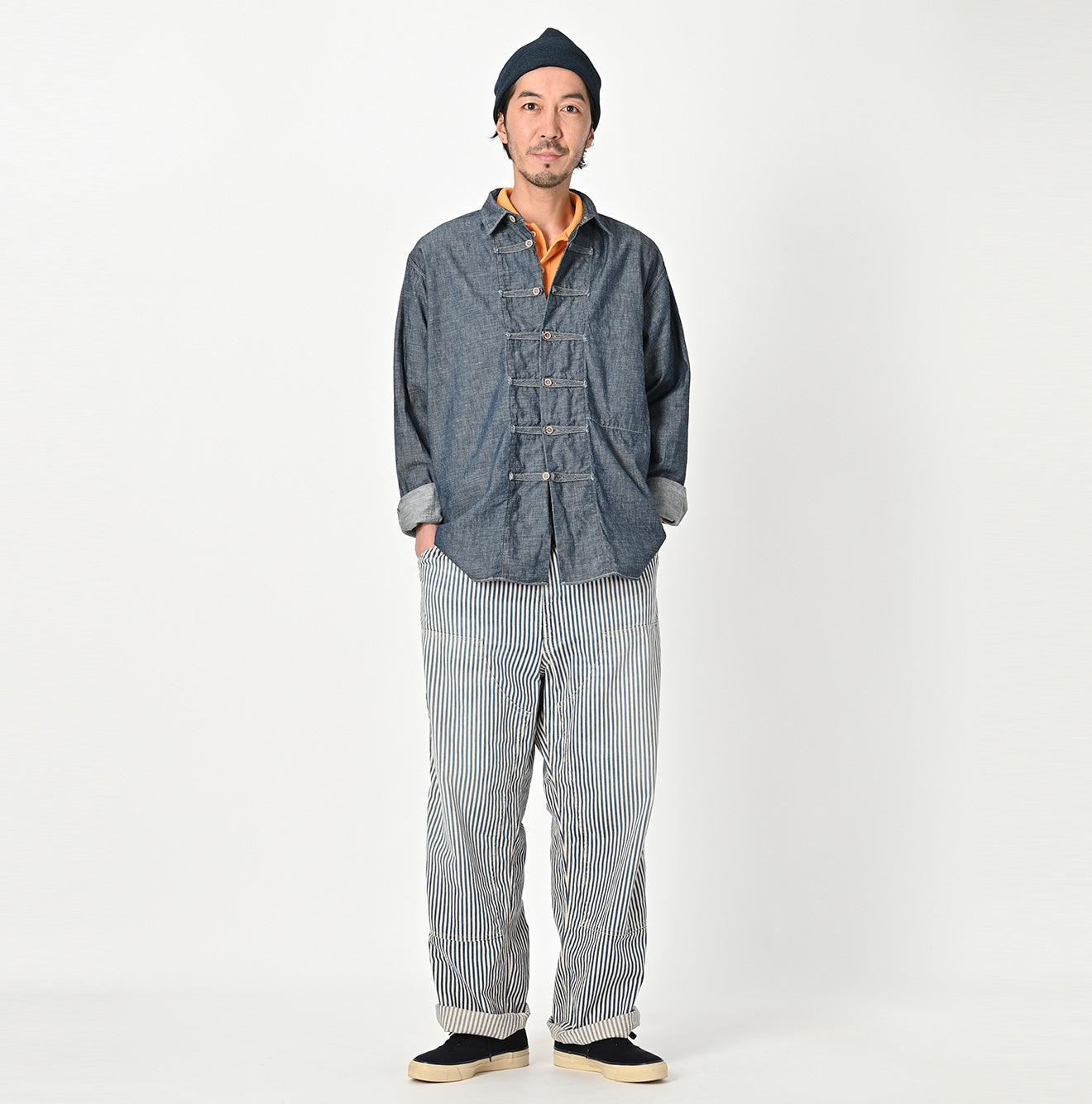 Size guide
IN CENTIMETER
SIZE
CHEST
LENGTH
SHOULDER
WIDTH
SLEEVE
LENGTH
00 - XXS
102
65
36
57
01 - XS
108
66
39
57
02 - S
116
69
42
61
03 - M
122
72
45
62
04 - L
132
74
48
64
IN INCH
SIZE
CHEST
LENGTH
SHOULDER
WIDTH
SLEEVE
LENGTH
00 - XXS
40.20"
25.60"
14.20"
22.40"
01 - XS
42.50"
26.00"
15.40"
22.40"
02 - S
45.70"
27.20"
16.50"
24.00"
03 - M
48.00"
28.30"
17.70"
24.40"
04 - L
52.00"
29.10"
18.90"
25.20"
MODEL HEIGHT 165cm (5'5")
WEARING SIZE 02 - S
MODEL HEIGHT 180cm (5'11")
WEARING SIZE 04 - L

Please note that the sizes listed above are standard.
There may be a slight size deviation depending on the product. Please refer the size chart shown below.


Country Original / Material
PRODUCT NUMBER:50530072
COUNTRY ORIGIN:Japan
MATERIAL:Cotton 100%
The color gently fades over time due to the natural characteristics unique to indigo dye. Please wash by itself or with similar colors. Cherish your indigo products just like our beloved bunny friend, and enjoy them while being mindful of the following points of caution.